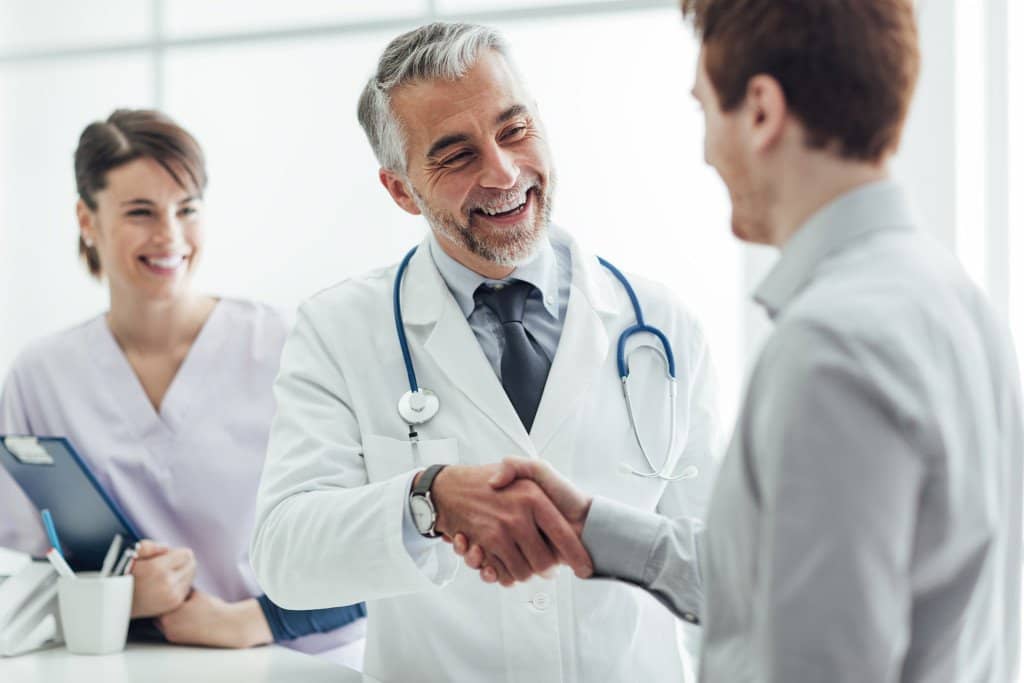 Today, even consumers of healthcare services are being influenced by the Disney's and Amazons of the world, and as a result, expectations are shifting higher all the time. Case in point: Did you know that as many as 96 percent of dissatisfied patients cite customer service, not quality of care, as the reason for their dissatisfaction?
Stats like that one prove that every healthcare practitioner, from hospitals and surgical centers, to doctors and dentists in private practice, aren't just in the medical field; they're now in the business of customer service as well. And that's why internal marketing programs targeting one's own administrative and medical staff, whose patient interactions largely determine the overall quality of the patient experience, are being deployed across healthcare organizations large and small.
From digital content and employee-focused newsletters, all the way to large-scale company retreats, internal marketing is a way to meaningfully appeal to your foremost brand ambassadors: Your employees. Here are several ways to leverage internal marketing activities to align your workforce and prepare each staff member to work diligently toward common goals like the delivery of an outstanding patient experience day in and day out.
Use Digital and Traditional Means to Establish a Customer Service Culture
Not just in healthcare, but in any industry, internal marketing is intended to inform, and perhaps even convince, employees about the direction and vision for the organization. As a result, a multitude of internal marketing activities can be used, for example, to launch new strategies or initiatives including the establishment of a genuine customer service culture where a heightened emphasis is placed on the overall patient experience:
Formal Launch Meeting: Announce the program and create enthusiasm around it, but use or manufacture a "turning point" for the business or brand in order to penetrate people's natural aversion to change initiatives. Such re-branding efforts have been found to "nearly always fail" without such a turning point
Ongoing Staff Meetings: Establish regular forums for communicating about procedures, discussing experiences, and troubleshooting problems, as well as sharing what's being promised to patients by the organization in order to better focus and direct staff efforts
Standardized Goals, Processes, & Procedures: Set measurable objectives as well as establish documentation that identifies which service-oriented activities are to be "owned" by which department and/or staff member, and how best to conduct them. Then continuously update and refine the goals and methodology in the name of efficiency and best results
Email & Newsletters: Just as it often does for patient communications, Email and newsletters are effective means for delivering an impassioned, articulate message to internal "customers" as well. Use digital avenues like these to educate and inform employees, share relevant data and case studies in effective patient interactions, and better align various departments and staff members
Content & Web-Based Resources: Articles, blogs, special reports, and compiled survey data can be distributed and/or posted to a company Intranet for review by all staff. Such material will help with learning, tracking performance, and measuring the true effectiveness of any changes implemented in the name of patient satisfaction
Develop Fun & Interactive Ways to Deliver Ongoing Training
For most workers, the mere mention of mandatory training sessions will elicit dread and even resentment, so to ensure you get buy-in from your staff, why not get creative and position customer service training as a game, an enrichment activity, and a team-building function instead?
Use multimedia sources like videos, slideshows, Webinars, and even invite guest speakers from your community, and position short quizzes at the end that help reinforce great customer service principles. Hold a 45-minute or one-hour session every month or two, and create a leaderboard so you can keep a running tally of the scores. Then, recognize the winning player or team with some kind of prize, whether it's a gift card or department lunch, or even a ticket(s) to a medical- or service-oriented event or seminar.
"Gamifying" the training process can help make mandatory training get over as a fun and perhaps welcomed reprieve from the hectic pace that tends to typify most medical office environments. And because it also helps promote teamwork and interaction, training is crucial for imparting the skills and ideals needed to deliver a great overall patient experience as well.
As an internal marketing tool, though, training also creates repeated opportunities to win over skeptics and really "sell" your staff on the importance of their roles within the overall patient experience. Sharing stats, case studies, and even actual experiences are all useful for spreading the culture of customer service. You might even use powerful stats like these as lead-ins or to build a foundation for targeted training sessions:
(Source) Patients who received a post-care follow-up call rate their satisfaction in the 90thpercentile, while those who didn't rate their care in the 30th percentile
(Source) When it comes to the administrative or logistical details of their visit, the most important determinants among patients are: 1) Wait time (31% of patients); and 2) Timely information regarding billing and payment issues (21%)
(Source) While wait time and communication account for over 50% of patient complaints, 70% of dissatisfied patients say that a simple apology would alleviate their frustration by showing them that the doctor and medical staff respect their time and patience
Empower & Incentivize Your Staff to Provide Outstanding Service
While hiring experienced, customer-service-oriented personnel is always an option, internal marketing can be a means of cultivating such personnel from within. So once a heightened commitment to the patient experience begins to take hold, well, don't rein it in; take certain steps to help it grow instead:
Give Team Input & Control Over Training: Let the team participate in and even facilitate their own training, from suggesting topics based on observed needs, to contributing ongoing ideas and feedback about delivery and teaching methods, and even inviting key service providers from across the organization to create content and lead training sessions
Welcome New & Unconventional Ideas: Develop and maintain an open forum for progressive thinking where the staff's own ideas for better identifying and serving patients' needs are evaluated, tested, and implemented whenever merited
Recognize & Incentivize Great Service: And finally, ensure that staff contributions get noticed by physicians, fellow staffers, and especially patients. Award prizes and incentives for delivering great service, and post recognition in the office, as well as on your social media pages as not only a way to give thanks, but also to show a more personal side to your brand and social media strategy
Thank you Tracy Knight for  your insights!