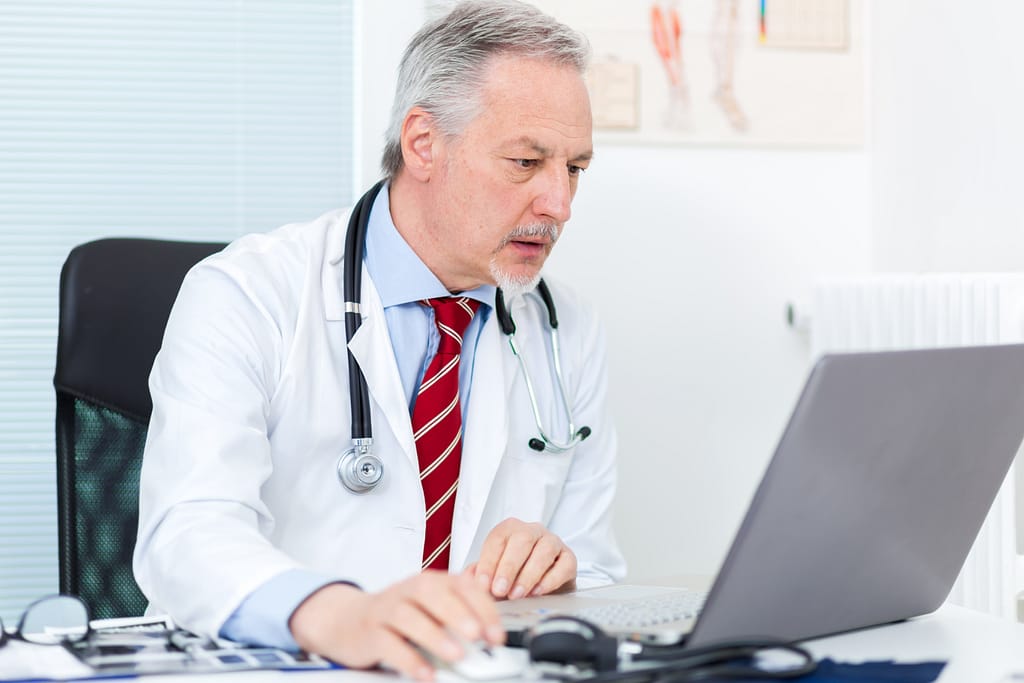 Have you ever Googled your name or the name of your medical practice and observed the top-ranking search results? Well, it's safe to say that your patients have. Recent estimates confirm that eight in 10 patients report searching online for health-related information, and some even suggest that 62 percent of patients use third-party health ratings sites to compare and select their physicians.
The problem, for doctors at least, is that upwards of half don't have a strategy or conduct activities to manage their online reputations on these sites and elsewhere across the internet. These online interactions are occurring each day, and perceptions about physicians and the quality of care they provide are being shaped without them.
"Reputation is based on what you do and how you talk about it." – Brenna Robinson, Director of Global Reputation, Pfizer
The message is clear: Physicians must not remain silent and on the sidelines when it comes to reputation management. With a non-complicated strategy and minimal tech savvy, they can make their presence count. Meaningful change and increased positive perception can be realized by making a trio of factors—which we hereby call the "Three Cs of Physician Reputation Management"—the focal points of your reputation management strategy. Here's what those C's stand for.
Reputation Management: Commitment
It was stated above, but it's worth repeating that about half of all physicians have yet to engage in reputation management activities. Given that, the problem doesn't seem to be that physicians are taking improper action; it's that they aren't taking action at all. And, in large part, the hesitation and perhaps trepidation that's causing such a sizable shortfall can be attributed to one (or more) of the following reasons:
Complacency: "I'm a respected physician and my online reputation will naturally reflect that."
Technology/generation gap: Since inception, digital marketing technology and the internet have far outpaced physician involvement.
Don't know where to begin: One earlier study analyzed nearly 5,000 physician ratings websites, leaving little wonder why it's so challenging to find a good starting point for directing reputation management activities.
It's also little wonder that the first "C" represents commitment; a commitment to overcoming these or other hurdles and using some simple-yet-proven actions to better manage your reputation. Now, let's turn the attention towards how—and where—to get started.
First, allocate a small window of time no less than once a week to reputation management. As a general rule, give your own social media pages (Facebook, Twitter, Instagram, LinkedIn, YouTube, etc.) top billing since social media outlets represent high-visibility destinations where you can actively control your reputation.
Also prioritize a selection of top physician ratings sites like Yelp, Google+, Angie's List, HealthGrades, Vitals, and WebMD. Finally, don't forget to pay attention to insurance provider sites and other online physician directories, "claiming" your profile and ensuring that all background and contact information is complete and accurate in each case. And, on social media and ratings sites, be sure to read and respond to positive (and especially negative) comments quickly—and the same day whenever possible.
Note that some physicians hire outside agencies to undertake reputation management functions on their behalf, and in this, digital age, there are even software applications that can help as well. ReviewMe, in particular, is one that we've been using recently to help a local physician achieve a more favorable search profile and overcome the impact of negative feedback launched by former associates turned competitors.
Reputation Management: Content
To contribute to the online conversation and positively shape your reputation, make calculated and continuous efforts to provide value in the form of high-quality content, which happens to be the second "C." Informational articles, blogs, video, and infographics can be effective in initiating unbiased, practical conversation that portrays a positive reputation before patients and online users. In addition, the newness of the content tends to weigh favorably on your practice's search rankings, and can help overcome the impact of any negative online reviews.
Regular content publication also ensures that nobody can define your online reputation without you having your own voice. That's why you should always respond (constructively, of course) to complaints and criticisms, answer patient questions, and provide your own helpful comments to members of the general public. This ensures that you are always engaged and never simply at the mercy of some negative feedback loop which can quickly spiral against you. To illustrate, consider this stat:
90 percent of people read online reviews to help guide purchase decisions, yet only 6 percent of people write these reviews. (Source)
This is a powerful trend that unequivocally shows the power of online reviews, but that ultimately calls into question their overall accuracy. Why, afterall, should only 6 percent have the power to influence 90 percent? The answer is that, unfortunately, negative reviews prove most memorable, and those are the ones that humans are exponentially more likely to share. One study, for example, found that we're apt to tell at least 24 people about a negative experience. Social media and ratings websites make it even easier to do just that, before a much larger audience.
The result for physicians and healthcare marketers? Even one or a couple of negative reviews, if not addressed swiftly and properly, can be enough to cause prospective patients to continue their physician search elsewhere. And alas, while you can't always please everyone, contributing content and being diligent about finding—and responding to—online reviews and feedback is your best line of defense for protecting what's most important: your reputation.
Reputation Management: Compliance
Physicians can also opt to go on the offense when it comes to reputation management by taking steps to create and leverage positive patient experiences in person that will translate into a more favorable online reputation. But, with HIPAA and compliance regulations forever looming, it's crucial to solicit positive feedback both legally and ethically. That's why the third C is compliance.
Here's what not to do: Don't offer incentives (discounts, gifts, or monetary compensation) in return for positive reviews. That's part of a practice known as "astroturfing," an all-too-common method that's deceiving, unethical, and most of all for physicians, illegal. And, needless to say, don't take a shortcut and post reviews on your own behalf, either. Honest and hard-earned positive reviews can boost business by as much as 52 percent, and there are ways to solicit positive feedback from patients that are fully compliant with all regulations:
Don't be afraid to ask. Without overtly "selling," of course, ask patients to take action and engage online. Provide a takeaway form with instructions, and include that information in patient e-mail campaigns as well.
Make it easy for patients. Incorporate reviews, comment functionality, and patient forums as part of your resource-rich, patient-focused website.
Undertake goodwill efforts. Be present for community events and health forums, answer questions in person and online, and contribute to media and press outlets for practical, positive exposure that can further solidify your reputation.
Show your personal side. Share pictures of you and your staff on social media, websites, and in email campaigns to reveal a more personal side to yourself and your practice.