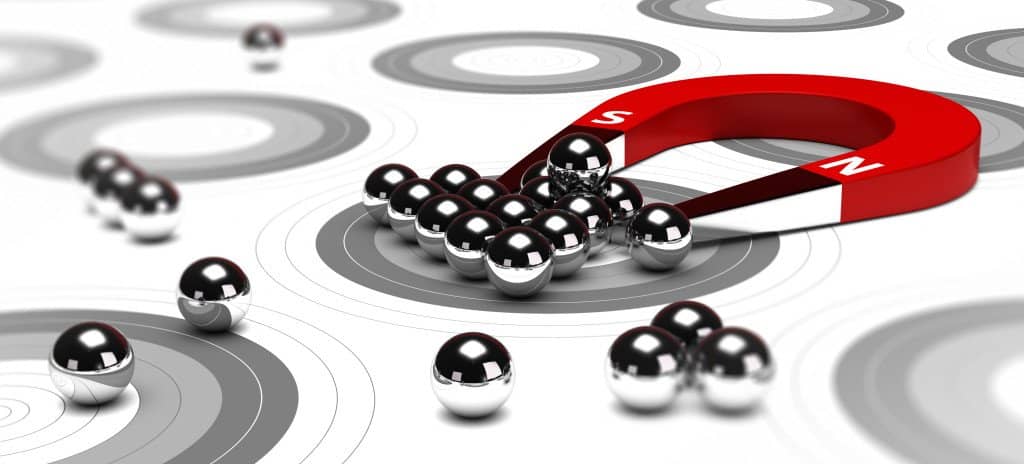 For healthcare marketers in particular, one truly critical juncture in the new patient acquisition process is when a prospect agrees to share valuable information like their Email address. In doing so, said prospect moves deeper into what's called the "sales funnel," transitioning from mere visitor and suddenly emerging as a qualified, opted-in contact. One more transition from there and they may well become a patient, so make no mistake, capturing an Email addresses is a big step indeed, and one that is made easier when you leverage select digital marketing methods.
What follow are all powerful (and proven) marketing functions that can help you earn the attention—and the Email addresses—of prospective patients with genuine interest in your services. Using these as key components, develop a digital marketing strategy that's engaging, value-driven and intended to nurture leads and cultivate more meaningful relationships over time.
Value-Driven, "Gated" Assets
Recent estimates suggest that more than 205 billion business and consumer Emails are received each day, a monumental figure that amounts to around 90 Emails per person, per day. Perhaps needless to say, then, not everyone will be so quick to share their Email address, but you'll find many more will be willing to exchange it in return for something of perceived value.
In this case, it may be a medical resource (perhaps a white paper or special report from you), or even access to a video presentation such as a slide show or Webinar covering a health-related topic(s) of interest to them. These items of value are often "gated," or protected in such a way that they may only be viewed, accessed, and/or downloaded by the user: 1) Agreeing to terms of use, like your opt-in policy; and 2) Sharing contact information including their Email address.
Gated assets are among today's most effective lead generation tools, although you'll still need to collect more qualifying information to learn about the person's true propensity to become a patient. That's why, in addition to Email address, many marketers also require geographic and/or company info to further qualify incoming leads and discern interested, able prospects from:
Those whom geography may preclude from becoming a patient;
Competitors and peers just checking out your content; and…
Students researching medical subjects for school projects, among others
Bottom line, while not every lead will be a "hot" one, gated assets will entice more qualified, interested prospects to share their Emails than most any other incentive available to healthcare professionals, who don't have the luxury—or the ability—to offer incentives like coupons, loyalty programs, and the kinds of incentives that are common in other industries.
Dedicated Landing Pages
Much like in-person selling, lead generation is both an art and a science. However, because lead generation occurs in the digital environment, not face to face, many of the tactics used for holding a person's attention, conveying meaningful benefits, overcoming fears and objections, and ultimately procuring that email address must be built in. And, in short, that's why effective lead generation calls upon dedicated landing pages, rather than simply directing to your web site's home page or inside pages and requiring users to navigate from there.
Dedicated landing pages are typically shorter and more singularly focused. They serve a specific function, which is to tell the user what to do, and how (and why) to do it. And, by implementing select functional and design components, you can increase landing page conversion rates from 5-15%, which is considered something of a standard benchmark, to as high as 30-45%, which is truly exceptional:
Remove site navigation and non-essential links to keep users on the landing page
Include a prominent contact form and large call(s) to action that prompt the user to fill it out
Present key benefits in the form of a bulleted or numbered list, a written testimonial or even a video
Ensure consistency between ad copy and landing page copy, and even create multiple landing pages to match various referral sources, like paid search ads, social media and more

Source: Hubspot
While working in concert with special offers and/or the "gated" assets we discussed initially, dedicated landing pages should play a valuable part in all of your digital marketing and lead generation initiatives. Now here's a sample featuring some of the design and functional components we advocated above: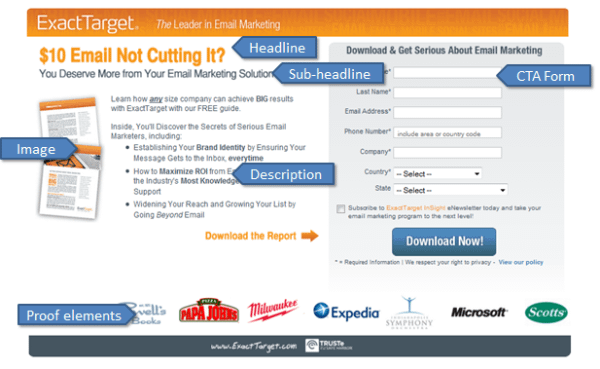 Source: Hubspot
Printed Materials Including Questionnaires & Infographics
While not digital in nature, it seems worthwhile to mention printed materials in our discussion, for these, too, can be important lead generators for physicians, many of whom speak publicly throughout their communities and elsewhere.
When appearing at lectures, health forums, community events and the like, try distributing or making available printed collateral pieces like informational brochures or one-page infographics attendees may take home with them. Include your web site and contact information, plus a supplemental offer like a special report available for download. Publish the link to the landing page for interested guests to visit at home at their leisure.
In addition, consider offering a brief health questionnaire or profile they can fill out and leave for you afterwards, maybe with write-in space to ask you direct questions and receive a response after the event.
Keep the questioning rather light, of course, asking more about health and lifestyle goals, leisure activities, and what health topics are of particular interest to them, rather than pressing for detailed and personal medical information. And, of course, ask for contact details including email address on the questionnaire in hopes of adding to your database of qualified prospects with whom you may continue to cultivate relationships following your initial meeting.
Thank you Tracy Knight for your insights!